In TripTix Web, administrators have access to user and PCR owner profiles. These profiles contain valuable information related the run records in the PCR owner's queue, including complete, incomplete and finalized runs. Within an owner's profile is also information related to reviews they have completed and reviews that were performed on records they were the owners of.
Tabs in the System Profile
There are two tabs that comprise the system profile: Overview and Activity. Within the Overview tab you can locate general information about the user, including their personal information, login details, certifications, and access permissions.
The Activity tab presents information regarding the user's activity within the system as it relates to run records. From here you can view the number of runs a user has Incomplete, Uploading, Complete, and so forth. You can also see their recently updated records, giving insight into whether they have been actively engaged in updating or completing run records.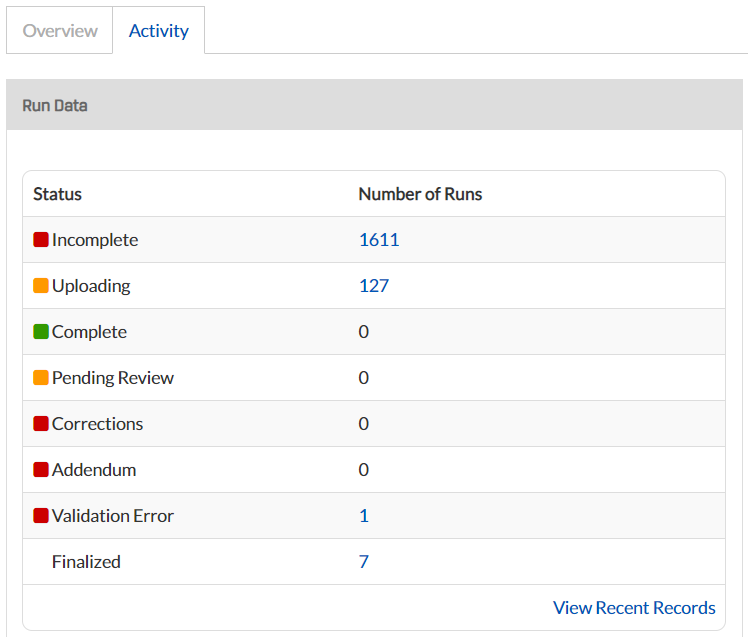 Sections of the System Profile
Sections in the System Profile include:
Personal Information – name and type of user.

Login Information – status, login credentials, and contact information for the user.

Primary Certification – certifications details, including issue and expiration dates.

System Access – two tabs within this section, Departments and Groups, indicate what the user is able to access within TripTix CDX.
Access the System Profile
Accessing a PCR owner's profile can be done through the Recent Run Records, Complete Run Records, Incomplete Run Records, Finalized Run Records, and tables. You can also access a user's profile by going to the Administration: Users tab.
To view a PCR owner's profile
From any page, go to Run Records and select the appropriate tab.

Locate the applicable run and, from the PCR Owner column, click the PCR owner's name. The System Profile page opens.