CDX offers Department and DOH Administrators the option to manage several aspects of their system, including login security requirements, ePCR field settings, and more. Go to Administration> System Settings to start controlling what users see, the fields found in a run record, and much more.
To Configure and Update System Settings
From any page, go to Administration> System Settings.


Note: The image above reflects the page as seen by DOH Administrators. What you see may be slightly different if you are a Department Administrator.
The System Settings tab contains the following subtabs
- Login Security
- PCR Data
- Applications
- Documents
- Other
- Allowed Websites
Login Security
About the Login Security Tab
The Login Security tab is open when you click System Settings. The fields in the Login Security tab allow you to set requirements for user passwords.
Note: Remember to click Save after making any changes to these fields.
Length
The minimum number of characters allowed in a password
Strength
Select the check boxes to require uppercase and lowercase letters, a number, and/or a special character in user passwords. Users may not submit passwords without meeting these requirements.
History
The number of unique passwords users need to use before they can re-use a password
Expiration
A password expiration interval, in days, after a user is required to create a new password
Session Timeout
The time, in minutes, the session can remain inactive before it expires. After the timeout limit is reached, users are required to log in again to continue working in the system.
PCR Data
About the PCR Data Tab
The PCR Data tab allows you to manage ePCR field settings.
The current NEMSIS data standard appears at the upper-left.
NEMSIS-required fields are indicated with a red asterisk in the Usage column. The system does not permit these fields to be turned off, though you may enter a default value.
A value that is on looks like this:

; one that is off looks like this:
.
See PCR Data Columns for information about what functions the columns on the PCR Data table control.
Applications
About the Applications Tab
The Applications tab allows you to add applications that users can access from their device. From this tab, you can add, edit, and delete applications as your permissions allow.
Note: When viewing an application, Department Administrators see read-only fields that cannot be changed.
See Manage Applications for information about adding applications, the fields on the Add Applications window, and about editing or deleting applications.
Documents
About the Documents Tab
The Documents tab allows you to attach documents that can be accessed across your department. From this tab, you can add, edit, and delete documents as your permissions allow.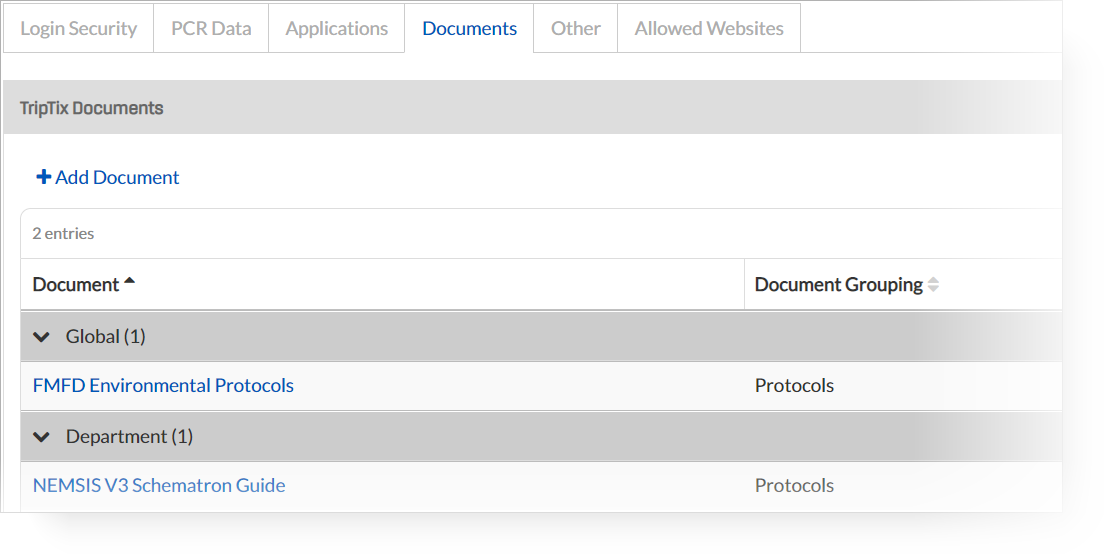 See Manage Documents for information about adding and deleting applications.
Other
About the Other Tab
The Other tab allows you to turn features and fields on and off to determine whether they appear on the appropriate pages in the system.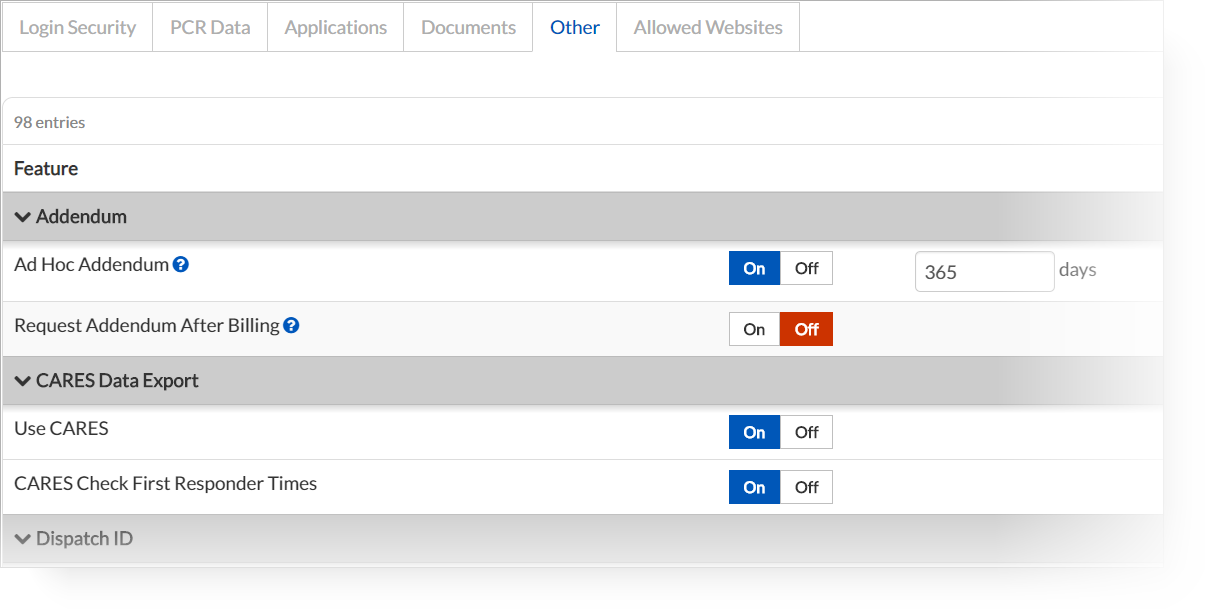 See Manage "Other" Settings for information about the options available on the Other tab.
Allowed Websites
About the Allowed Websites Tab
The Allowed Websites tab enables Department Administrators to provide a list of websites approved by your agency that users can access from their device.