About Custom Configurations
A Custom Configuration allows you to define a unique question that your state or department wants medics to answer in each ePCR.
To Create a Custom Configuration
From any page, go to Administration> Pick Lists.

Search for and select Custom Configurations. The Custom Configurations page opens.



Click + Add Custom Configuration. The Create Custom Configuration modal window opens.
Enter information in the fields. (Read on for information about the fields.)
Click Save. The new configuration is shown under the group you designated, if applicable, and is immediately set to Active.
Custom Configuration Fields
Type
Select either Demographic or Event.
Data Standard
Select the data model that this custom configuration question follows.

Title
Enter the title you want to display on the Custom Configurations and ePCR pages.
Custom Element ID
Enter a unique ID that you want to represent this element when it is exported as XML. Click Check availability to be sure the ID you chose is not already in use.
Definition
Enter a description of the custom question.
Usage
Select the option that regulates how users complete the question in the ePCR. Indicate and whether "NOT" values are permissible responses. The choices are as follows:
Mandatory – Must be completed and does not allow for NOT values

Required – Must be completed and allows NOT values

Recommended – Is not required and allows NOT values

Optional – Is not required and does not allow for NOT values.
Field Type
Select the option that specifies the type of data required in this question.
Boolean (Yes/No)

Date/Time

Integer/Number

Text/String

Pick List (Single Selection) - Only one option for users to choose

Pick List (Multiple Selection) - More than one option for users to choose
If you choose either of the Pick List options, Custom Values fields appear below Field Type.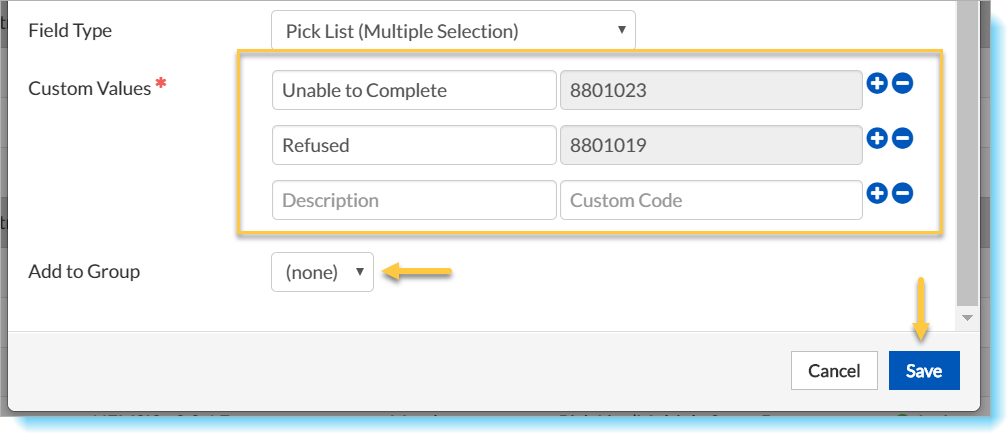 In the Description field, select from the following:
Not Applicable
Not Recorded
Not Reporting
Contraindication Noted
Denied By Order

Exam Finding Not Present
Medication Allergy
Medication Already Taken
No Known Drug Allergy
None Reported
You may click the + on the row to add as many options to the Pick List as required. Your selections in the Description field will be displayed on the dropdown that users will see.
The Custom Value Code your system uses to identify the value internally and when creating an XML export file.
Add to Group
Select from your existing Custom Configuration Groups (if any) to add this question to a group. If you leave the value at (none), the question will be in the Stand-alone Custom Configurations group.
As always, be certain to click Save when you have made all of your selections.